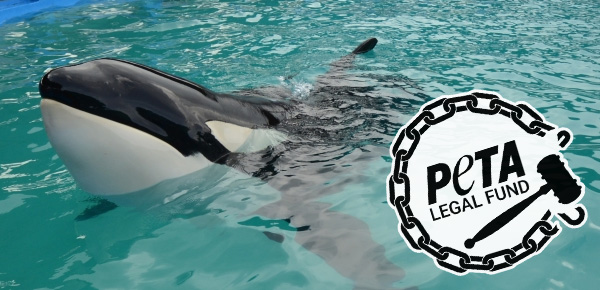 The world's loneliest orca desperately needs our help.
Lolita was just 4 years old when she was torn away from her family and her ocean home nearly five decades ago.

Although her family members still swim in the vast waters where she was captured, Lolita can only drift in tiny circles, stuck at the Miami Seaquarium in the smallest orca tank in North America—perhaps even the world. She hasn't even seen another orca since her tankmate Hugo died more than 35 years ago.

PETA is campaigning hard for Lolita to be released into a seaside sanctuary—and now, you can give a boost to the trailblazing legal team working to win her release.

We hope to raise $100,000 by March 31 to give our legal team the resources that it needs in order to help Lolita and other animals like her. Make your gift to the PETA Legal Fund today. Even as little as $5 will be an important contribution to our work.
PETA's legal team successfully pushed for Lolita to be protected under the Endangered Species Act. Now, we need to win her freedom.
PETA has unearthed records that the Miami Seaquarium tried to keep sealed so that the public wouldn't know how much Lolita is suffering. They reveal that this lonely orca is forced to take a veritable cocktail of drugs and medications—including antibiotics, antifungals, pain medication, steroids, and hormones—almost daily, all to treat ailments caused by her captivity. Her teeth are permanently damaged, likely from gnawing on the sides and gates of the tank, and she's going insane from the stress of confinement.

Yet the Miami Seaquarium is still forcing Lolita to perform in show after show, two or sometimes even three times a day.

From buying stock in the Miami Seaquarium's parent company to suing it under the Endangered Species Act and the government for licensing the aquarium to exhibit her to mobilizing tens of thousands of people to join our call for her release, PETA is working vigorously to win Lolita's freedom from that watery prison. Now we need your help as we continue to fight in her behalf.

Sylvia, our legal team will never back down. Please make a donation to the PETA Legal Fund today to support our groundbreaking work for Lolita and other animals in need.

No matter how long it takes, we won't give up on helping Lolita and other abused animals. With support from kind people like you, PETA has already achieved more legal precedents for animals than any other group. But we can't rest on our laurels!

Until all the tanks are emptied, our legal team will keep working to win Lolita's freedom and to secure other animals' fundamental rights. Donate to the PETA Legal Fund today and help us accomplish even more for animals.

Thank you for your compassion and for taking action for long-abused animals like Lolita.

Kind regards,


Ingrid E. Newkirk
President